The Filesystem Manager interface
Use the Filesystem Manager to administer the filesystems on your system. You can start the Filesystem Manager in any of these ways:
Double-click on the Filesystem Manager icon in the Filesystems directory of the System Administration window on the Desktop.

Start the SCOadmin launcher by entering scoadmin on the command line, then selecting Filesystems, then selecting Filesystem Manager.

Enter scoadmin filesystem manager on the command line (or abbreviate to scoadmin fi).
For more information on using SCOadmin managers, see ``Administering your system with SCOadmin''.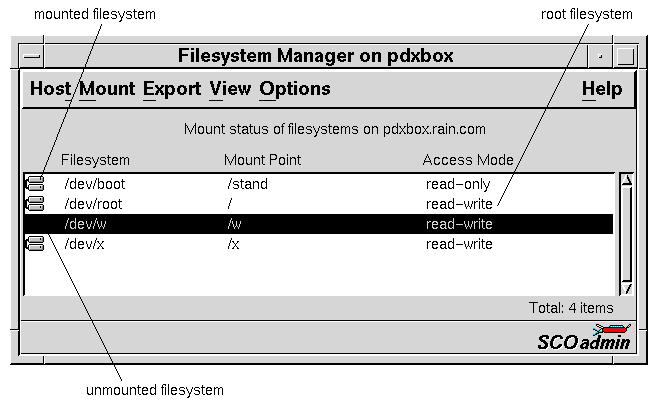 ---
Next topic: Authorization
Previous topic: Administering filesystems

© 2003 Caldera International, Inc. All rights reserved.
SCO OpenServer Release 5.0.7 -- 11 February 2003