Configuring an Address Allocation Server (AAS)
The Address Allocation Server provides an IP address allocation service to other network services. ``Example uses of the Address Allocation Server'' shows how DHCP servers and PPP remote access servers can use an AAS server to obtain IP addresses that they can assign to their clients.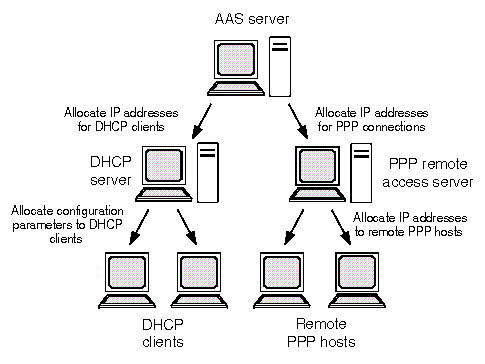 Example uses of the Address Allocation Server
The AAS allocates and reserves addresses for a specific period of time. It offers the following advantages to you as a network administrator:
IP addresses can be configured into pools for use on different subnets or by different network services.

An IP address can be reserved for only as long as the client remains connected to the network.

It allows a limited number of IP addresses to be shared among clients that do not require permanent IP addresses.

Addresses become automatically available again at the expiration of a period of time, their ``lease'', without requiring you to take any action.
SCO AAS provides the Address Allocation Manager for administering the AAS service.
---
Next topic: How the SCO Address Allocation Server works

© 2003 Caldera International, Inc. All rights reserved.
SCO OpenServer Release 5.0.7 -- 11 February 2003