Complex SLIP connection scenarios
Many networking scenarios use SLIP to connect two hosts over a dedicated line or via modems. While these scenarios may require some effort to achieve a successful connection, they are simple in that they involve configuration of just one connection. This section provides a description of two more complex scenarios that require multiple connections, including one or more SLIP links, to resolve the scenario's networking needs.
SLIP gateway scenario
The first complex connection scenario is illustrated by ``SLIP gateway scenario''.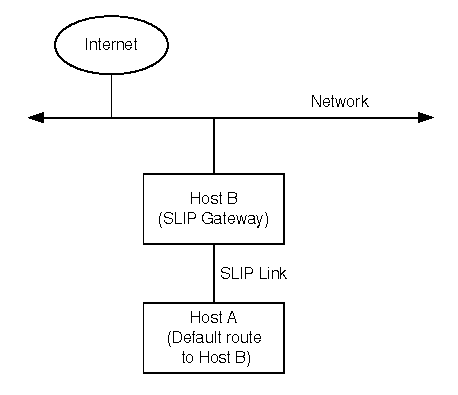 SLIP gateway scenario
This scenario assumes that host A needs to access the Internet but has no direct access. To gain Internet access, host A must use SLIP to connect to host B, which does have Internet access. Host B must act as a gateway to the Internet for host A. The special configuration issues for this scenario are:
A successful SLIP link must be established between host A and host B.

Host B must be configured as a SLIP gateway.

Host B may need to have proxy ARP entries for other hosts to be able to send packets to host A. See ``Proxy ARP''.


Host A must have a default route in its IP routing table that points to the SLIP interface associated with the SLIP link to host B. To add such a default route, execute:

route add default remote_IP_address 1

remote_IP_address must be the same address used to identify the remote host when configuring the SLIP link. To find this address (if necessary) for an existing SLIP link, execute:

ps -ef

and find the entry for the slattach process for the link.
SLIP server scenario
The second complex connection scenario is illustrated by ``SLIP server scenario''.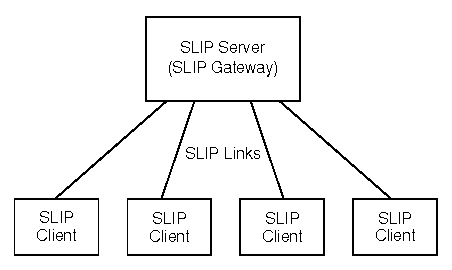 SLIP server scenario

The requirements of this scenario are for a single host to act as a SLIP server. Multiple hosts connect to this server using SLIP, and the server provides services (such as Internet access) to these hosts over the SLIP connections. Following are the special configuration issues for the SLIP server:
The SLIP server must be configured as a SLIP gateway.

The server must have configured a unique login account for each client that wishes to log in. Each login account must call a unique SLIP shell script. The shell script must execute slattach with a unique pair of IP addresses.
See also:
---
Next topic: Advanced SLIP configuration
Previous topic: Proxy ARP

© 2003 Caldera International, Inc. All rights reserved.
SCO OpenServer Release 5.0.7 -- 11 February 2003